5 Simple Steps to a Stress Free Vacation
1. Plan in Advance
Plan your trip as far in advance as possible. Although you will want to leave some room for spontaneity, If you have bucket-list activities you want to participate in on your vacation, it's always best to plan well in advance of your arrival.
Sometimes planning in advance is not possible and last minute trips can be fun, but you will want to stay even more organized for those trips to make the most of your time and assure you are not missing anything.
2. Have an Itinerary
Think through each step of your vacation and have an itinerary on paper or in your mind.
Make sure that you have plans to make the most of your time and double check that you have booked all necessary tickets, tours & transportation. It's always good to be aware of the hours for theme parks or places you plan to visit and have a plan in place for meals.
3. Stay Organized
Keep track of things that you have done and need to do. This includes checklists, payments & balances, confirmations for plans, flights, hotels, transportation and more. Having a few vacation planning sheets really helps this process. Print sheets if you are someone who likes physical forms or fill out pdf sheets for paperless tracking. If you are a super organizer, do both. CLICK HERE to submit your email and immidiatly recieve a zip file with our 9 favorite vacation planning pages.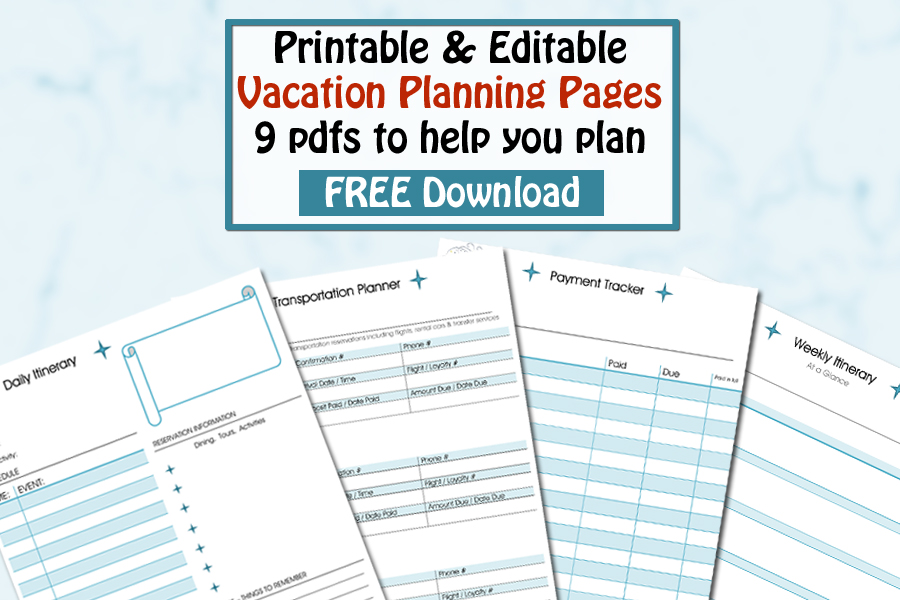 4. Leave More time than you need for everything
When penciling in an itinerary on paper or creating one in your mind, make sure that you leave time for possible delays or small hiccups that inevitably happen much of the time. Don't worry about these times, but rather embrace them & know that you will often laugh about & remember the imperfections from your vacation much longer than when things go smoothly. You may want to download some fun apps & games on your smartphone in case you need a fun activity to kill time while you wait.
5. Take advantage of complimentary planning assistance from a professional travel advisor
Many travel advisors do not charge a fee for professional assistance in planning your vacation when you book through them. A travel professional can help you walk through your vacation step by step to make sure you are not missing anything & provide you with valuable tips and insights. This process can help you get the most value out of your vacation time.
- Melissa Mathies, Owner & travel advisor at Pixie Dust Adventures
Planning a vacation doesn't have to by overwhelming. We're here for you. We are time savers and vacation matchmakers adding value with our exclusive and personalized service for your next vacation. Whether you are traveling as a couple, a family, a multigenerational group, a corporate group or even solo, we are there to help you by providing unbiased recommendations where you come first.
Why take our word for it? CLICK HERE and read what our guests are saying about us.

A few benefits of working with our Vacation Planners
Always talk to the same person about your vacation - Someone who knows you, what you want and is familiar with your situation
No long hold times - Avoid long hold times on the phone when you have a question, just talk to us & if needed we will hold for you.
Communicate in a way that is convenient for you - When you need to reach us you can email us, send us a text message, send us a Facebook message or call us. Whatever works best for you is how we communicate with you.
In a digital world get your information in print - Before your departure we will send printed confirmations and information. If you would rather not have printed copies, just let us know and we will send everything digitally.
You will have a friend to help you plan from start to finish and beyond - Once you plan a trip with us we become friends. We always want what is in your best interest & we care about your experience.
An advocate for you - You are our #1 priority. We are here to create a personalized vacation that is right for you and provide unbiased, honest recommendations.
All of our planning is always complimentary - That's right, you pay us no additional fees to assist you with your vacation.